High class shopping centers and scenic public gardens contrast the historical monuments, of which are lasting evidence from the many empires that the capital city of
Turkey
 has seen. Sitting high and mighty at an altitude of 850 metres, the sunny city of 
Ankara
 has transformed from an important cultural and trading centre to a centre of politics for Turkey, as well as music, dance and leading educational institutions. Populated by spreading views of hills and ornate architecture, this city is the place to be if you're looking for a day trip that combines culture, arts, class and scenery.
1. ANITKABIR

Translated as 'memorial tomb', Anitkabir is the well-known mausoleum that keeps the first president and leader of the Turkish War of Independence, Mustafa Kemal Ataturk, as well as the second president, Ismet Inonu. The tomb features soaring pillars that support the stately roof; it is so intricately decorated that the moment you cast your eyes and take in the majesty of the structure, you can see why it was built this way, to house such important figures in Turkish history.
2. ANKARA CASTLE
It has to be said that the architects certainly put an astounding amount of effort into creating the most statuesque structures that would last for hundreds of years. Ankara Castle is certainly one such example; it is a fortification that once surrounded the entire city but due to astronomical growth in recent decades, now only surrounds the older part of Ankara. In addition to the walls, there are 42 towers incorporated at intervals in the wall, standing at around 16 metres high.
3. KIZILAY SQUARE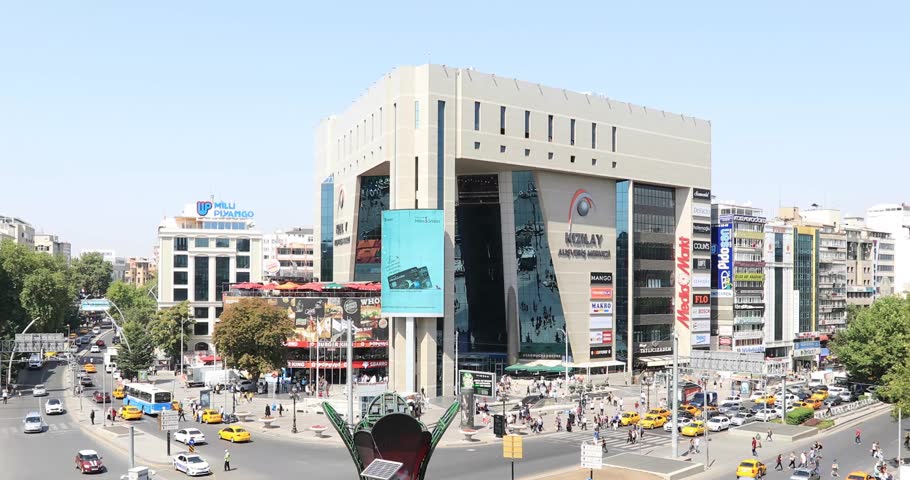 Kizilay Square was once the centre of Ankara – this is certainly clear due to the monuments that populate it. You must visit here just to get a feel of what ancient Turkey would have been like.
4. MUSEUM OF ANATOLIAN CIVILISATIONS
The Museum of Anatolian Civilisations is home to artefacts from so many eras, from as far back as Paleolithic to the more recent Ottoman period. It is simply mind-blowing how you can just walk through this museum and be transported through thousands of years of history through discovering archaeological objects that have been so brilliantly preserved and displayed. The gold, silver and marble works from the latter half of the first millennium are fine example of the exhibits on display. You could literally get lost among the history in this place.
5. GO SHOPPING AT A PAZAR
Otherwise known as bazaars, no trip to Turkey would be complete without checking out the markets and having a bit of friendly bartering with the vendors! A Pazar is a weekly market; these markets are held in most areas in the city, so ask a local when and where it will be happening.  You never know, you could come back from the market with a variety of goodies for your dinner or some colourful garments.
6. GENCLIK PARKI
Genclik Parki was previously marshland before it was drained and recreated into a public park and opened on Youth Day. Besides the wonderful flora and fauna that decorate the park, there is a swimming pool as well as coffee shops. So, for a relaxing walk and a coffee, this is the place to go.
Have you been to Ankara or do you want to go? Let us know by commenting below and share your pictures with us by booking your trip best travel website in Dubai TRIPVISORS!